2015-07-08
Another Fun week of D&D Encounters.
We went to Pho for dinner & then grabbed some Peets. There was a great VW Bug outside the shop.
The tables were full when I showed up -- outside is really looking like they are having a lot of fun!
More images of the SLUG BUG that was parked outside.
The snacks were flowing freely as I tried to master the art of Pano.
Still not very good at it!
I brought Camille a power cord, but he did not use it. Chris was not there this week, but other players are stepping up to run the table in his abscence which is fantastic to see.
DM Robert ran my table, which was a fairly managable size this week.
DM Robert rolled 5 Crits in one night--which may be an Encounters record--he rolled three in a row which is definitely the most I have ever seen!
the players also got in a few good roles--at level five we are fairly tough at this point!
It was a very fun Wednesday night!
For this episode, we have Bart Carroll, Shelly Mazzanoble, Trevor Kidd, Greg Tito talking about Video Games again. Here is the blurb:
Neverwinter. Rob Overmeyer serves as Executive Producer for Neverwinter. He rejoined the podcast to tell us about Neverwinter: Strongholds. This seventh expansion of the game—announced for this summer—will see players join with their guild to claim an abandoned keep from the wild and build it back into its former glory on the largest map in Neverwinter. Find out more at playneverwinter.com.
I am really glad that Greg has joined the team & it is always good to have Trevor on the Podcast, but I am really not that interested in the video game & these episodes in which there is no mention of the Tabletop RPG just kind of remind me of how little is currently being developed and released for the 5th edition.
The art, however, continues to get better and better--this image is just amazing!
I hope we can start having more episodes in which the RPG is discussed.
James Introcaso

sits down with

Wolfgang Baur

, Kobold in Chief of

Kobold Press

about his upcoming visits to

PaizoCon

and

North Texas RPG Con

as well as his upcoming events at

Gen Con

. Then they talk about Wolfgang Baur's wish for a fifth edition

Dungeons and Dragons OGL

and all the awesome products he has planned once (if) it launches. Spoiler alert - fifth edition

Midgard Campaign Setting

is liberally spoken about. This podcast was recorded on June 17, 2014.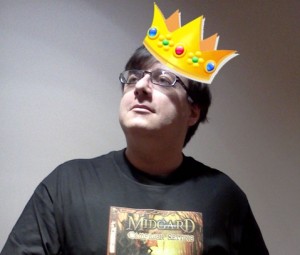 I did not think that this was a very good episode. Wolfgang is such a D&D Insider his experience with the game is very remote from mine so I do not really relate to much of what he is feeling about the game right now.
Also, I think James is much better on player focused topics & these insider interviews work better with Jeff on the main Tome show.